Travel dates: March 29, 2004 - October 10, 2004.
Basically, it's something like this: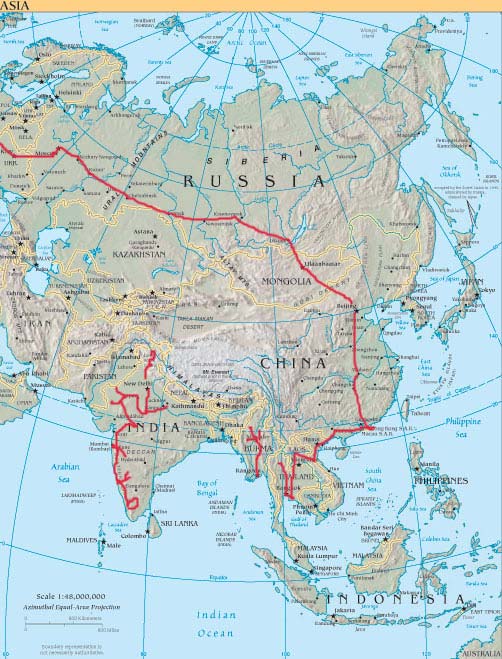 The first and most important part of the trip is in India
FEBRUARY
29 Feb - 2 Mar: flight to Delhi; stopover in Istanbul on March 1.
MARCH
The top tourist season in India is from November to March. After mid-April the place really starts to heat up, with temperatures in Delhi reaching up to 45° (yes, in the shade) in May/June. By visiting the north first, I get the tail of the cool season (in the south it's always hot so the timing there is only really determined by the monsoon rains which arrive in in June). After arrival in Delhi, I'll have a few days for shopping, sightseeing and buying clothes and stuff I couldn't be bother to buy in Europe beforehand. I'll meet up with my cool friend
Anu
, a Finnish girl who worked in our Helsinki office back in 2000.
In March, I'll concentrate on the state of Rajastan, which has a desert, lots of desert towns with huge fortresses, and a few nature reserves. on March 6, they celebrate Holi in northern India, when people throw coloured water at each other to celebrate the end of the freezing winter (down to 9°C, brr) and the coming of another warm summer. I plan to be in Jaipur then, where there is a famed elephant festival.
Delhi
Jaipur
(pink city)
Jhodpur
Agra
(Taj Mahal)
Bikander & Jaisalmer
(Thal desert fortress towns, obligatory back-breaking camel safari)
Udaipur
APRIL
The plains in the north will get hotter, so I'll be trekking south to the tropical parts of India, where it's always hot. I have to get out of the area by May, as that's when the clouds and serious rains come.
Mumbai
(= Bombay, India's most affluent and cosmopolitan city, always hot and sticky, some of the biggest slums in the world and... Bollywood)
Goa
(an old Portuguese colony with hippies and nice beaches. They're Christian - so that means there are hamburgers here - but I'm too late for the Easter processions)
Hampi
(temple ruins in a wacky landscape)
MAY
I'll have to get out of the south soon, because the monsoon starts in mid-April. Back up to Delhi by plane (this is a 4-5 hour flight!), and straight north into the Himalayan foothills.
Kerala
(nice; a tropical version of Holland - lots of lakes and canals, boat trips between villages, palmtrees instead of windmills)
Western Ghats
(the mountain range inland; some ecotourist tours of the rain forest areas; train trip up to the hill station Ooty)
Shimla
, a former British 'hill station' (resort) in the western Himalayan foothills.
Manali
(hill station, western Himalayas)
JUNE
By June, the snow on the higher passes will have dissapeared, so that the road traffic deep into the Indian (western) Himalayas will be back. Time for the mountains. This month, I have to go eastwards somehow - visiting Varanasi (the sacred Hindu town on the Ganges) would be nice on the way, but it'll be very hot then on the plains... maybe I'll just make my way straight from Delhi to Myanmar. I have a double entry visa, so I might go into Nepal for a while too while summer lasts.
Leh
(a town in barren landscape deep in the Himalaya, I plan to do some trekking here)
Kolkata
(Calcutta)
Darjeeling
(famous hill station... but this is monsoon season, so maybe the timing is bad).
The second part of the trip is getting home - via China, Mongolia and Russia
JULY
I should have left India by now, and have about 6-8 weeks to cross South East Asia (SEA); Myanmar (former Birma) and Laos were until recently the most closed counties of the region, and are most untouched and difficult to travel in, sounds perfect to me. However, it will b rain season, and depending on what it's like, i may just opt to evade the wetness and head for Indonesia, where it's the dry season then.
Myanmar
(2-3 weeks of trekking around)
Thailand
(I just have time for the north - see a couple of temples, lie on a beach)
Laos
AUGUST
From here I'm off to China - it could be overland via Vietnam, taking in Macao and Hong Kong, or else first to Bangkok and then a flight to Hong Kong. Depends on if I can get the Chinese visa easily on the road; I know it's easy to do in Hong Kong (which I can enter 'for free'). In Hong Kong I'll be meeting my cousin Wouter, who works and lives there with his girlfriend. At this point my trip gets vague - I don't know anything about China yet, except that it's big and people in India speak English better. I could go straight to Beijing and do trips from there, or work my way north slowly.
Hong Kong
China
SEPTEMBER
In Beijing I'll meet up with Roger and Jessica, an artist and singer/songwriter I met while living in Warsaw. I'll need to arrange my trip through Mongolia, Russia and Ukraine from here; that means getting visas and train tickets, and first of all making a plan of course. This is the month that I can finally stop taking malaria medication; south of Beijing the mosquitos give up. Halfway the month I should get on the train for the ride north to Mongolia.
China
Transmongolian/Transsiberian Express
(stopping off in Mongolia and a few Russian cities)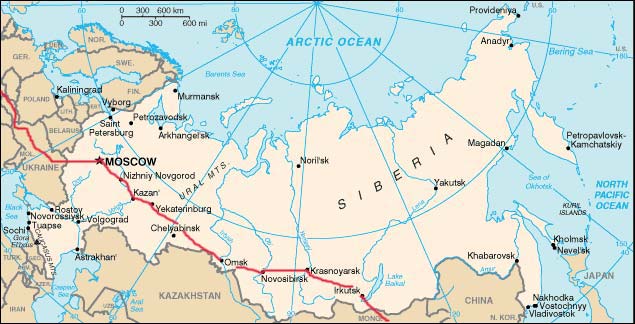 OCTOBER
From Irkutsk and Lake Baikal, I'll go west towards Moscow, where I might meet Ziemek, a Pole who I know from living in Prague; he should have moved here by now. Both Sco, an ex-colleague who lives in Vilnius (Lithuania) and wants to go to Novosibirsk, and Frederic, an adventurous Frenchman living in Dnepropetrovsk (Ukraine) who I know from Warsaw, have expressed interest in joining me for the Transsiberian part of the trip. From Moscow it's on to Kyiv and through western Ukraine and the wonderfully named region of Transcarpathia into Slovakia... and back home to Prague.
Kyiv
Lviv
Slovakia
Prague
---